The Amarillo Marathon has been delayed till May 2022 due to the construction that will be going  along the course route we proposed for May 2021.  At the beginning of last year we were informed by TXDot and Randall County that the course would be available for our 2021 race.  Unfortunately, due partially by the pandemic the construction was delayed.  We apologize for any inconvenience this may have caused.  We hope you'll sign up for the 2022 Amarillo Marathon.  We will have the same race events including the Full Marathon, Half Marathon and the 5k as well as our famous water stations!  Thank you again for participating in and supporting the Amarillo Marathon during our first five years!  We have been blessed with loyal runners, great sponsors, amazing volunteers and our valued committee members!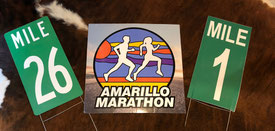 Amarillo Marathon
Full Marathon *  Half Marathon *  4 Person Full Marathon Relay *  5K *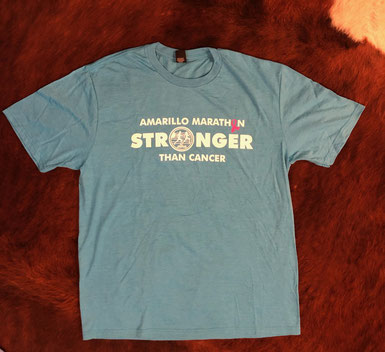 Online and paper registration links are below!
Thank you to those who contacted us to serve on the Amarillo Marathon Committee.  We are an all-volunteer organization and we could not present this event without the generous support of our race volunteers, sponsors and committee members.  
2019 Paper Registration click here
Marathon Reg Form19.pdf
Adobe Acrobat Document
220.8 KB
USAT&F Certified (marathon qualifier)
Full Marathon (TX17019LAB)and Half Marathon (TX17018LAB) USA Track & Field National Certification by Logan Burgess Feb. 9, 2017.  Measured on Jan. 30, 2017 by Logan Burgess, Dino Owens and Jennifer Campos.  Full Marathon elevation at the start/finish line is 1,126 meters with highest 1,170m and lowest 1,054m.  Half Marathon elevation highest 1,142m and lowest 1,054m.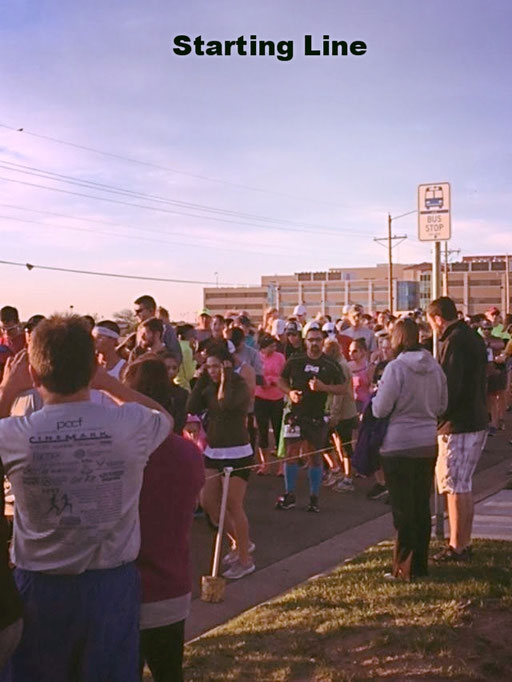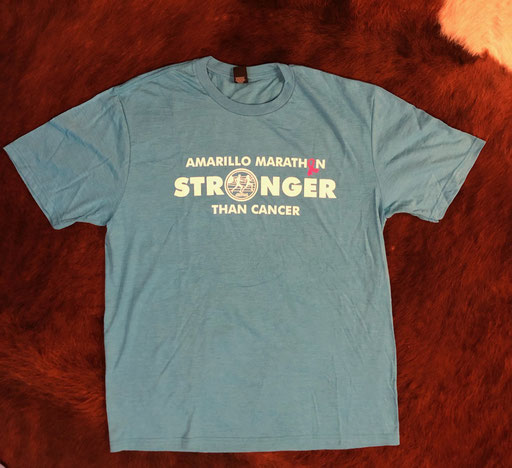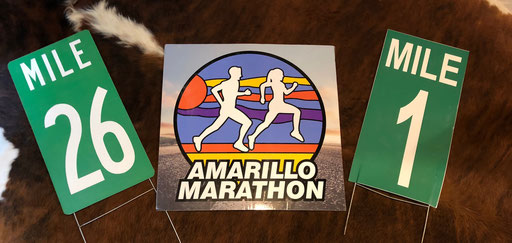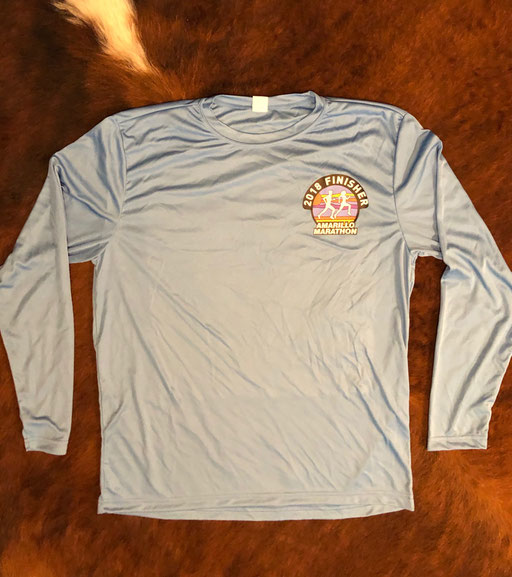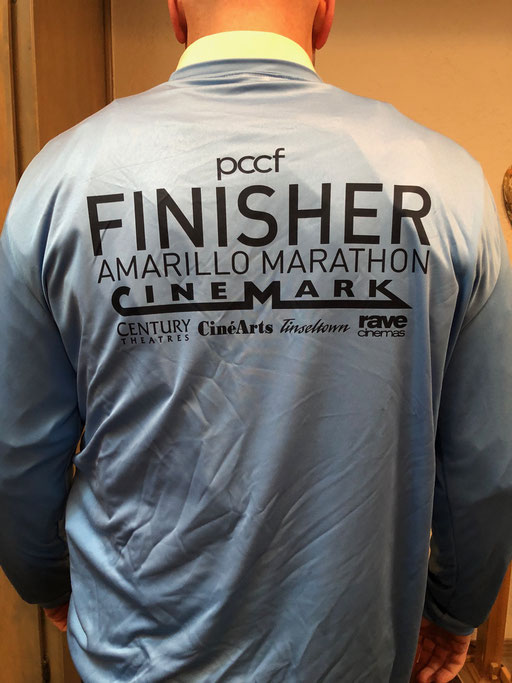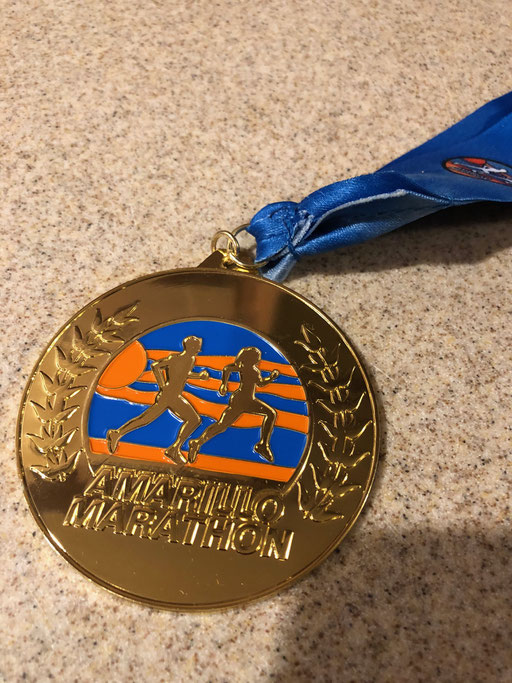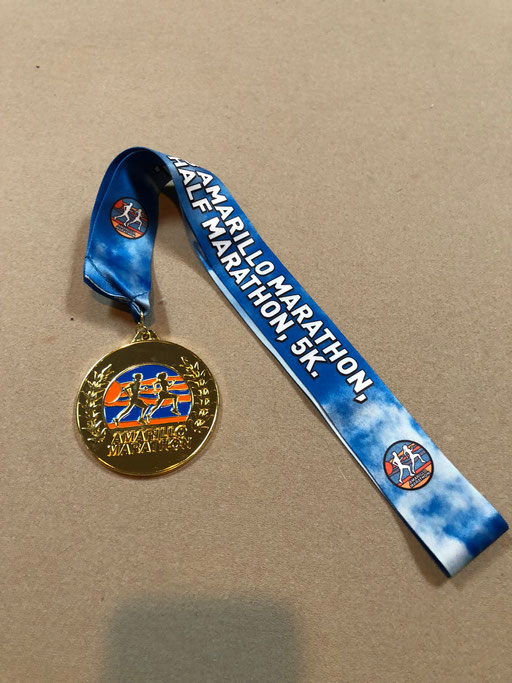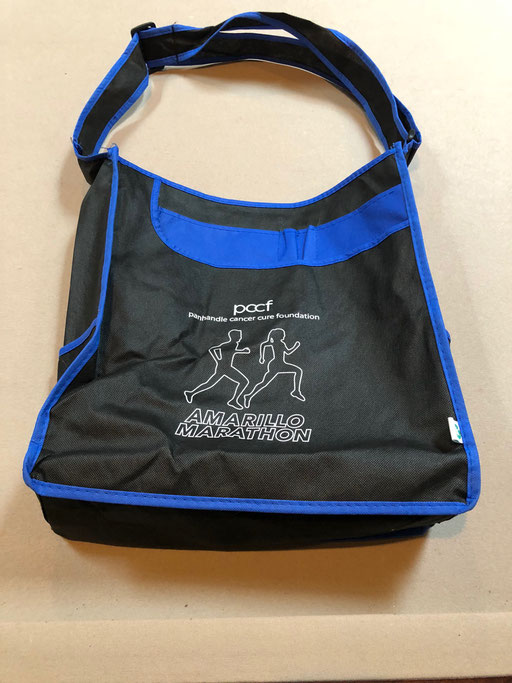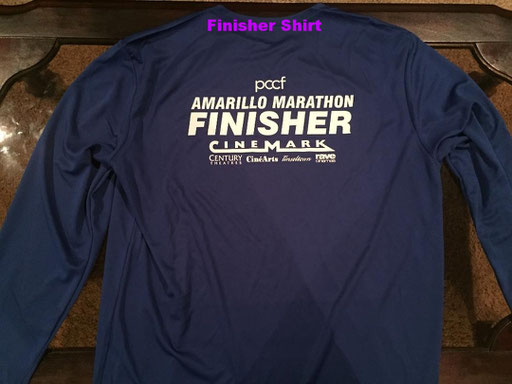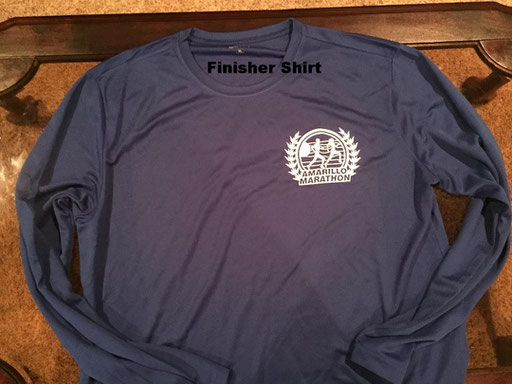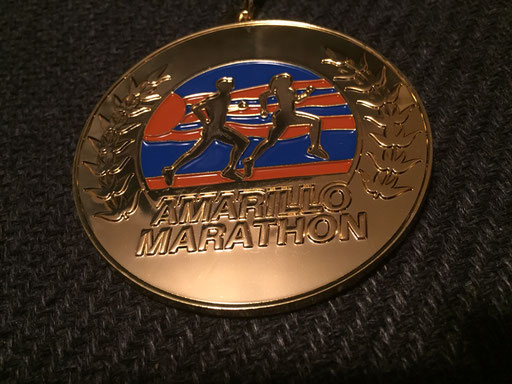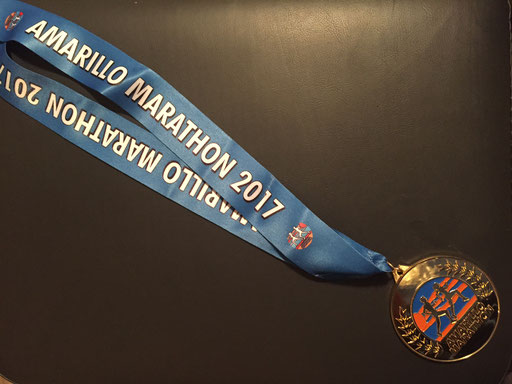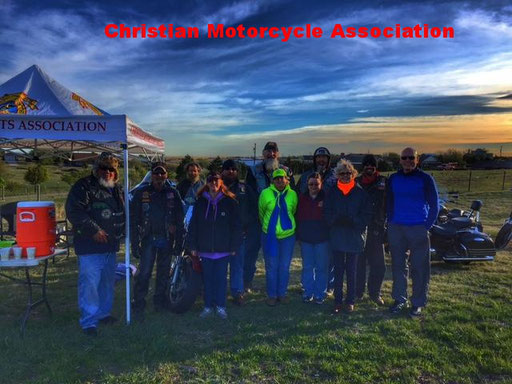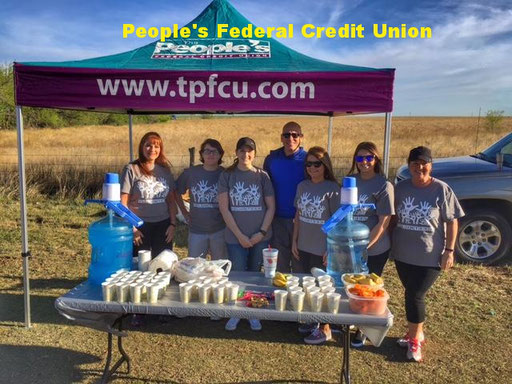 Pre-Race Packet Pickup and Late Registration:
May 3, 2019 4p-6p
Get Fit, 1911 S. Georgia, Amarillo
Race starts at Texas Oncology, 1000 S. Coulter.  
7:00 am - 7:15 am-late packet pick for Full Marathon and 4 Person Relay at Texas Oncology
7:15 am - 7:30 am-late packet pick for Half Marathon and 5K 
7:15 am - Start Ceremonies at Texas Oncology 1000 S. Coulter
7:30 am - Start Marathon and 4 Person Marathon Relay 
7:45 am - Start Half Marathon and 5K
1:30 pm-Finish Line Closes
8:15 am-1:30 pm-Post-Race with Pizza, Hotdogs, massages and the awards! 
 Awards
Cash:  1st place overall for both men's and women's in the Full Marathon ($100), Half Marathon ($75) and 5K ($35)! 
Medals:  All Half, Full Marathon and Relay Finishers!
Shirts :  the first 200 to register!  
"Finisher" technical shirts:  Full Marathon finishers! 
Award Categories: Male & Female for Full & Half Marathon (1st and 2nd place medals):
Ages 13-19, 20-25, 26-30, 31-35, 36-40, 41-45, 46-50, 51-55, 56-60, 61-65, 66+
Award categories: 4 Person Relay Teams (1st place medals): Women's, Men's and Mixed 
Award categories: Male & Female for 5K (1st place medals): Ages 13-19, 20-29, 30-39, 40-49, 50-59, 60-69, 70+
Students age 21 or younger receive a 30% discount on marathon, half marathon, or 5K.  There will be no refunds, exchanges or deferrals of race entry.
The after race party will start at 8:15a with 575 Pizza, Hotdogs with chili, donuts and massages!
Full Marathon runners will have approximately 14 water stations and Half Marathon runners will have approximately 9 water stations!  Water stations will be located approximately every one to four miles.  They will include water, hydration drink, bananas, oranges, dark chocolate covered bacon, GU energy gel, and other snack items!  With so many items you may not want to leave the water stations!  
The average temperatures for early May range from 45 in the morning to 67 in the afternoon.
The weather is unpredictable so come prepared.
For our out of town guests our hotel sponsor is the Home2 Suites by Hilton.  King bed rooms for $99 for May 3rd.  Book your room before April 26 deadline.  Say you are with the Amarillo Marathon.
Amarillo Marathon Committee 
Valeri Williams Marathon Chair
Ashley Schilling Marathon Chair
Gabe Walker Marathon Chair
Sarah Stevens Marathon Chair
Dino Owens (dino55@sbcglobal.net)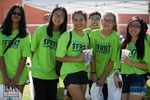 Come out with your friends or come and make new ones! Millions of people run races every year and there's something for everyone. Amarillo Marathon has something for everyone and we're working hard to make sure it's a great experience for anyone who attends!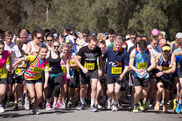 Police assistance and emergency response teams standing by.  Our goal is to make sure everyone makes it back without accident or injury.   
Please consult a doctor before performing any strenuous physical activity.

Come experience Southern Hospitality at it's finest as we roll out the red carpet for you. You won't find a race anywhere else that takes care of its participants like they do in Amarillo!
Full Marathon Map
Amarillo Marathon Map w Relay (1) (1).pd
Adobe Acrobat Document
233.6 KB
Half Marathon Map
TX17018LAB - Amarillo Half Marathon Comb
Adobe Acrobat Document
1.6 MB
5K
The 5k will be on the Full and Half Marathon maps at packet pickup.  The 5k uses the same start and finish as all other races.  Where the other races turn on Old Soncy Road and goes north the 5k will stay straight down 9th going west with a turn around approximately .5 miles from the intersection of 9th and Old Soncy Road.
---
2019 Amarillo Marathon Sponsors
 Grand Sponsor
Cinemark Theatres
Silver Sponsors
Amarillo National Bank
Bronze Sponsors
Dr. Clint Hardee (Karr & Hardee Dentistry)
People's Federal Credit Union
Dr. Eric Ehle (Well Life Family Medicine)
TTUHSC
Dr. Mike Flores
Orange Theory Fitness
Mullin Hoard Brown
United Supermarkets
Air Force Reserve
Carin C. Appel M.D.
Happy State Bank
Panhandle Cancer Care Center (Amarillo Urology Associates)
Amarillo Pediatrics Dentistry and Orthodontics
Morgan & Meyers Roofing and Exteriors
 2019 Water Station Sponsors
Amarillo National Bank
Yoon Lee
Quick Quack
Verdure
Texas Tech Ultrasound
Canes Chicken
Interim Home Health
Amarillo Steam Team
Amarillo Pediatric Dentistry and Orthodontics
                                      2019 Amarillo Marathon Contributors                                                    
Vistar
Excel                                                                                               
Donut Stop
Home2 Suites by Hilton
Bryan Townsend                                 
Plains Dairy
A-1 Rocket                                                                    
United Supermarkets
Mel Morris                                                                    
Trinity Fellowship Church
City of Amarillo Police:                                                
(Aaron Huddleston, Billy Dewitt, Bob West)              
Amarillo Emergency Services
Amarillo College Massage Therapy                            
Desmon Dunn
AquaOne                                                                        
Rib Crib 
Chili's                          
Get Fit 
Starbucks Soncy                                                          
575 Pizza
Street Toyota                                                                
Crunch
Verdure
Water Still
Nick's Fight Club
2019 Information 
Click on "Sitemap" below for information about:
and the Amarillo Marathon Staff